Cascada de Tobalina
Highline in Belgium is allowed
under covid conditions
. Slackline in parks is allowed if you follow
official guidelines
. Be careful where you install your line in the parks (walkers/bycicles traffic is higher than usual). Contact us for any questions.
Waterline
free accessible
Super spot de baignade au pied de la cascade de Pedrosa de Tobalina. Waterline de ~ 40/45m possible. Plus d'autre si ajout de quelques points dans la roche. (Attention rocher friable !)
Profondeur plus que suffisante. Attention à quelques rocher aux deux cotés du début de la ligne.
Line details
Matos habituel. Elingues de 2m suffisent bien que une de 3 rend le tour du rocher plus aisé.
Penser à prendre une corde ou longe pour remonter sur la ligne une fois dans l'eau !
Passage de ligne possible par les rochers à gauche, sans trop se mouiller.
Utiliser d'un coté (coté terre) l'arbre évident suffisamment épais (élingue de 2m suffisante)
De l'autre coté (coté cascade), faire le tour d'un gros rocher avec une élingue (2 ou 3m). Je sais pas à quel point c'est résistant mais ça n'avait pas l'air d'avoir bougé même après une grosse tension. Back-up conseillé sur un autre roché de ce coté là.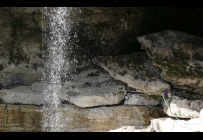 Line credits
September 2019
Suivre indication de la cascade
Submitted by
Pierre G.
on 10/09/2019.
Last modified:
10 September 2019 à 20h42